Cross-country skiing Val Comelico

Cross-country skiing trails surrounded by the unspoilt nature of the Dolomites, that weave between pine forests for more than 53 Km. Easy and more difficult trails that have seen the likes of the legendary skier "Grillo" Maurilio De Zolt.
The loipes that branch off from Padola in the direction of Valgrande and Selvapiana are perfect for both skating and the more classic style. There is also an illuminated ring of 1.5 Km where you can ski at night.
Further excursion trails link the lower valley loipes with Passo Monte Croce Comelico, the malgas of Coltrondo, Rinfreddo and Nemes, the faces of costa della Spina fright up to Casamazzagno.
The loipes in Val Comelico together with those of Sappada are part of the Dolomiti NordicSki, the largest cross-country skiing circuit in Europe with 1300 Km of loipes in the Dolomites.
The Dolomiti NordicSki circuit has everything a cross-country skier could wish for. With just one ski pass you can access as many as 10 of the most beautiful tourist areas in the Dolomites; the cost is extremely reasonable and there are many special offers designed specifically for families.
The Dolomiti NordicSki circuit has:
1,300 km of cross-country skiing loipes with just one ski pass
a Ski pass that allows you to ski on various trails in the fabulous Dolomites.
Guaranteed snow from December every year
Well positioned and exposed loipes with breathtaking views of the Dolomites
Common standards of quality in every area that make up the Dolomiti Nordicski circuit
Well prepared trails to ensure perfect conditions
Single prices set by mutual agreement (daily, weekly and seasonal)
Children up to 12 years old are free, groups: every 21° ticket is free
Many special offers and benefits reserved for individual areas that are part of the Dolomiti Nordicski circuit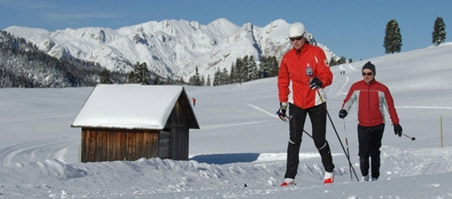 The entire area offers cross-country skiing lovers excellently prepared and maintained loipes in the following places and valleys: Alta Badia, Valle Anterselva, Val Casies, Alta Pusteria, Osttirol, Val Comelico - Sappada, Cortina, Misurina, Valli di Tures and Aurina, Alpe di Siusi - Val Gardena, PelmoSkiCivetta and Forni di Sopra. www.dolomitinordicski.com