Nordic Walking in Val Comelico
surrounded by the UNESCO Dolomites
Nordic Walking is the perfect occasion to discover the beautiful Val Comelico area and learn all about this new and healthy activity.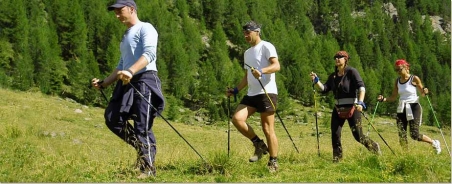 Created in Finland, this sport is very popular amongst many people all over the world. It consists of walking with sticks that have been specially designed for this sport. It is a very natural, easy and effective way to tone all the muscles in the body, improve posture, stimulate circulation and improve your overall physical condition. It involves almost 90% of the muscles in the body thereby increasing energy expenditure by 45% compared to normal walking and does not put excessive stress on the joints along with all the other benefits this kind of activity can bring. Suitable for everyone the three different levels - Wellbeing, fitness and sport provide the opportunity for all to find the perfect challenge and exercise to suit their physical condition from a therapeutic walk to a more intense aerobic workout, as well as specific exercises for athletes. Walking out in the open air also helps to eliminate stress and open the mind to positive thinking.
It is a sport FOR EVERYONE ALL YEAR ROUND that combines the benefits of exercise outdoors with fun and relaxation.
For information Nordic Walking Comelico-Sappada tel. 366.44.52.275 or 0435.470.015